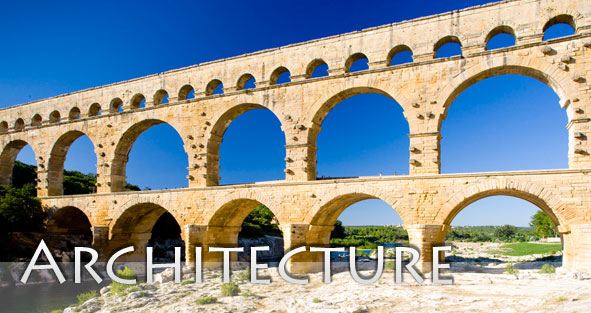 Ancient Roman Architecture is one of the most easily recognizable types of building and structural designs that can still be seen around the world. Early Rome was known for vaults, arches, and domes that were adorned by columns. The Ancient Roman Empire was also celebrated for their elite architecture and exquisite designs throughout Europe and the Far East. A great deal of the Ancient Roman's architecture and designs were adopted from the Ancient Greeks and early Italic tribes that inhabited the area. Much of Ancient Rome's buildings emulated classical Greek models that eventually took their own dynamic classicism.
Rome was a civilization that thrived on cultural influence and conquest. As the Ancient Romans acquired new territories, they incorporated new ideas which added to their designs and architectural knowledge. Although Ancient Rome was a melting pot of architecture and ideas, the Ancient Romans had a knack for adopting ideas and at times making them better than the original.
Ancient Roman Architecture has left its influences around the western world from amphitheaters to arches and much more. This is because wherever the Ancient Romans went they left behind some of their architectural feats. The Ancient Romans were well known for pioneering paved roads, successfully constructing massive buildings, and erecting intricate monuments.
Ancient Rome's elaborate architecture is a reminder of how advance their construction techniques and architectural designs were throughout Ancient Rome and the territories they influenced. Many of Europe's cities still bear some influence of Ancient Rome's architectural authority and are some of the most desired travel destinations today.
Click on the below topics to explore and learn more about the Ancient Romans and how their architecture still influences great builders today!
Share and Enjoy