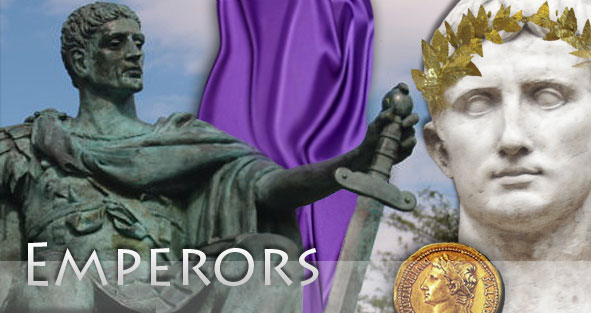 An Emperor was the dominant male ruler in Ancient Rome. The Emperor held great power and prestige in their position. Emperors in addition to being a Roman citizen also held some type of power politically, socially, or military wise—not just anyone could become an Emperor. Although Emperors were the dominant ruler of Ancient Rome, they had advisers within the government which helped with important political decisions and actions.  Just like in today's modern governments around the world.  These advisers were senators, magistrates, and members from the assemblies and tribunes. Other advisers came from military generals and even religious advisers.
Emperors were most noted for being great rulers who Romans loved or hated.  These leaders brought wealth and success to the Roman Empire. However, for every beloved Emperor there were those who were hated. These hated Emperors were vicious, perverted, and ruthless. Some were so merciless other politicians feared that if their assassination plots failed, the Emperor would find out and unleash an unwavering wrath. It is also believed that some of these Emperors had mental illness.
While it was a great honor to rule Ancient Rome, it was also a great danger. Ancient Roman Emperors were plotted against and killed often, especially if other partisan members did not agree with their political views, philosophies, or character. Some Emperors–good or bad–were merely killed because other people simply wanted a chance to be the ruler of Rome and enforce their own agendas on the government.
Although there was much corruption and suffering throughout the Ancient Roman Empire, some Emperors made great advances which brought comfort to the people. These improvements ranged from: educational, architectural, entertainment, political, and medical advances.
Emperors would continue to rule the Ancient Roman Empire until its fall. Read on to learn about Emperors from the Ancient Roman Empire and how they influenced one of the most successful civilizations in history.
Share and Enjoy