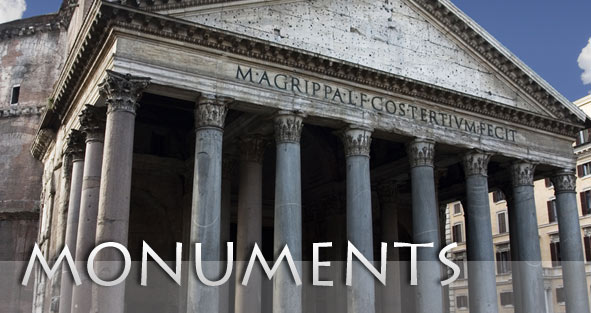 Ancient Rome is known for some of the most spectacular monuments in the world. Today, many of the breathtaking masterpieces are still standing where they were once glorified by the people of Ancient Rome, and visitors from afar. Much of our knowledge and design we use in structures today stems from the great feats of the Ancient Romans and their amazing architectural achievements.
The Ancient Romans were very innovative and did not just look to their homeland for knowledge. Ancient Rome was known for absorbing the newly acquired information they would come across during their many conquests. This led to inspirations and knowledge from different cultures, fueling their massive understanding of building.
Ancient Roman monuments had many different functions. Some of these monuments were created for religious ceremonies, entertainment arenas, shopping and meeting places for citizens, government buildings, and other luxurious indulgences. Some examples of these monuments are: the Roman Coliseum, the Roman Forum, the Roman Bath houses, the Pantheon, and Roman theatres.
Emperors or great architects would erect these astounding buildings to show the citizens of Ancient Rome how powerful they were, how extraordinary Rome was, or simply because they had a drive and desire to design the next best structure. Monuments were also a way for Emperors to create a legacy and be remembered long after they were gone.
Many of these monuments stood for the pride of Ancient Rome, the deeply religious belief system of the Ancient Romans, and the lavish lifestyle some of the Ancient Roman citizens lived. The monuments in Ancient Rome, and around the world, built by the Ancient Romans, show a rich history and tell stories of Ancient Roman life, hardships, and achievements.
Click on one of the links below to learn more about these famous monuments and the unique history behind each architectural wonder.
Share and Enjoy